Dr Prashant Yadav the Director of the clinic and the Chief Operating Surgeon is a renowned and reputed cosmetic surgeon of International class with practical, authentic and extensive experience and proficiency in this thrilling field.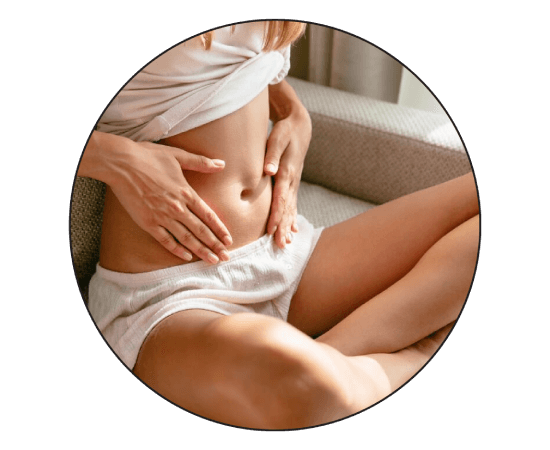 It takes a considerable amount of time and a strict diet and exercise regime to lose the baby fat gathered during pregnancy. For some women diet and exercise can work alone. However, for those women that do not benefit from diet and exercise, tummy liposuction using VASER liposuction technique can be a great option. It is also an alternative to traditional abdominoplasty, also known as tummy tuck.
Liposuction of abdomen is an outpatient procedure and it can be performed under conscious sedation. The recovery is much faster than traditional abdominoplasty and you are not left with a long scar to your abdomen.
Mummy tummy liposuction can be combined with abdominoplasty or tummy tuck. In fact combining these two procedures results in better contouring of the abdomen.
Additionally, abdominal liposuction can be combined with breast augmentation or breast lift. This combination is typically called as mommy makeover in which a woman tries to get back her pre-baby body.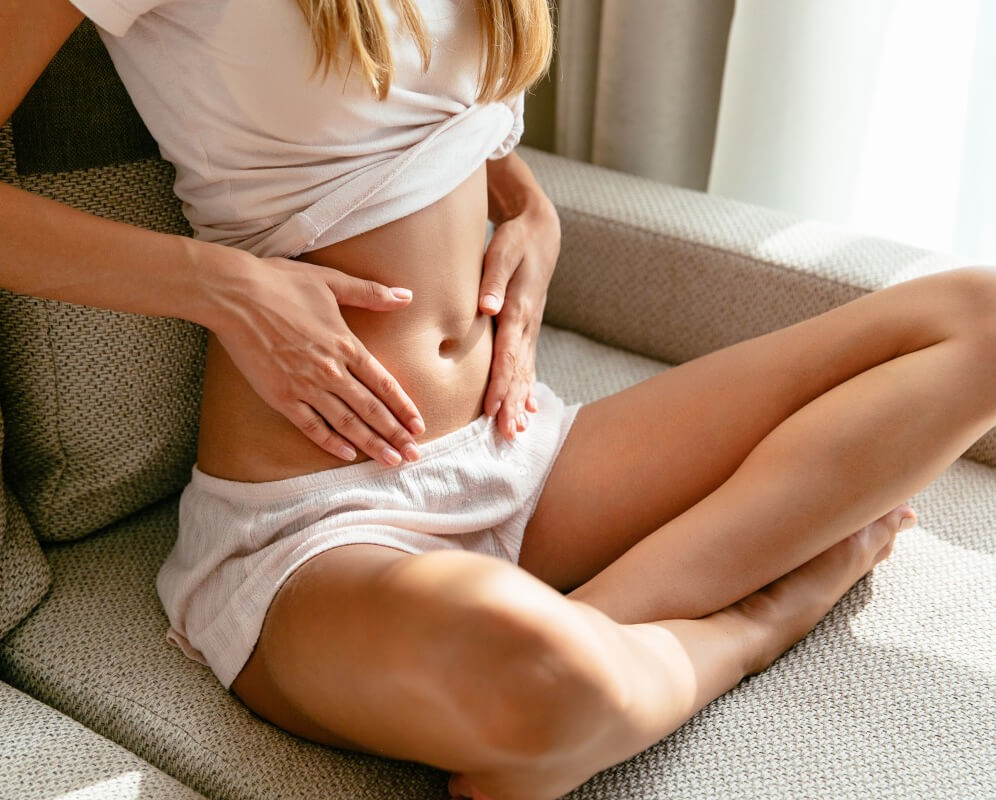 Ideal candidate for Mummy Tummy Liposuction
Pregnancy can stretch your abdominal skin and muscles to make space for your growing baby. It takes some time before you can get the muscle tone back in your abdominal muscles. These women can benefit from mummy tummy liposuction.
Women who have reasonable skin but not excessive amounts of loose skin. Those women with little to no muscle separation. If women do have loose skin and lots of fat and they just want to look better in clothes, then Vaser Liposuction may be an option. It is best to see our Doctors at Dezire clinic to assess your situation. So don't wait and make an appointment at one of our clinics located at Pune, Bangalore, Delhi or Gurgaon and take the decision to look your best using minimally invasive technique.
Difference between tummy tuck and VASER liposuction
Anesthesia is given using intravenous sedation
Then, very tiny incisions are made wherever the liposuction is needed. Generally somewhere between 2-4 tiny incisions are made. The abdominal area is filled with a tumescent saline solution that contains local anesthetic and helps numb the site and shrink the blood vessels (this will minimize any blood loss and reduce bruising). This saline solution wets and fills the area to be treated, making it easier to break up fatty tissue with the Vaser system's ultrasound energy.
Next, a small probe is inserted into the treatment area. It transmits sound energy to break up and liquefy or melt the fat, while preserving other important tissues. This technique selectively removes the smaller deposits of fat surrounding specific muscle groups. In turn, this then enhances the natural contours of the muscles.
Finally, a gentle suction is used to remove the liquefied or melted fat. This process minimizes trauma to surrounding tissue structures such as nerves, blood vessels and connective tissue. This approach promotes smooth results and rapid healing. The advantages of vaser liposuction include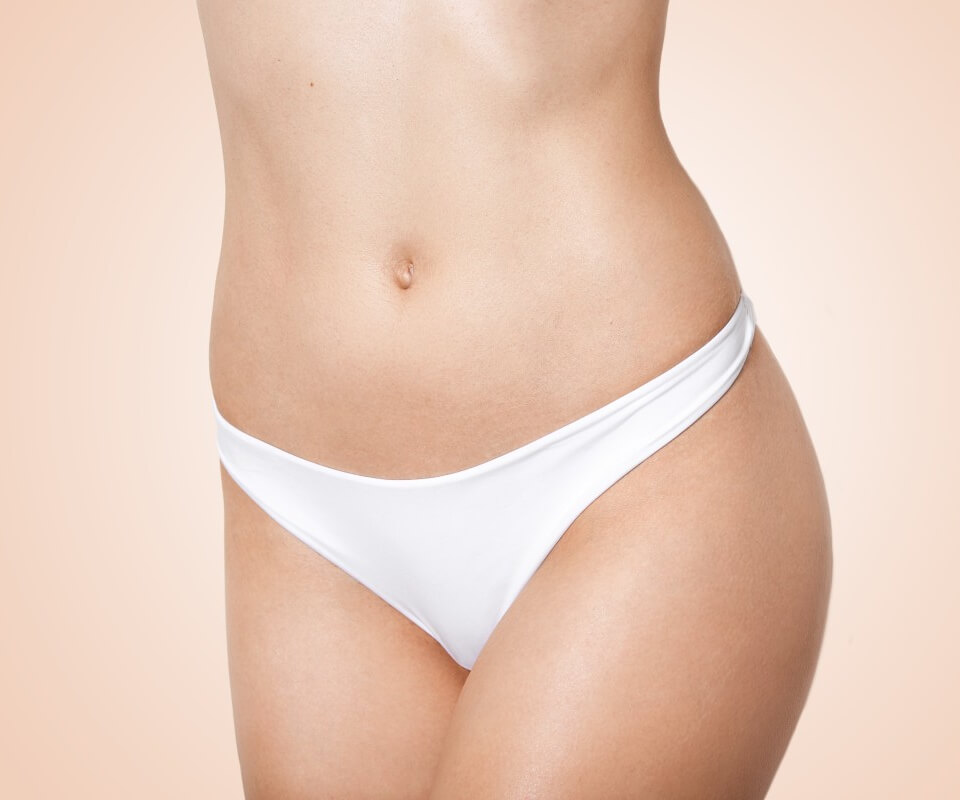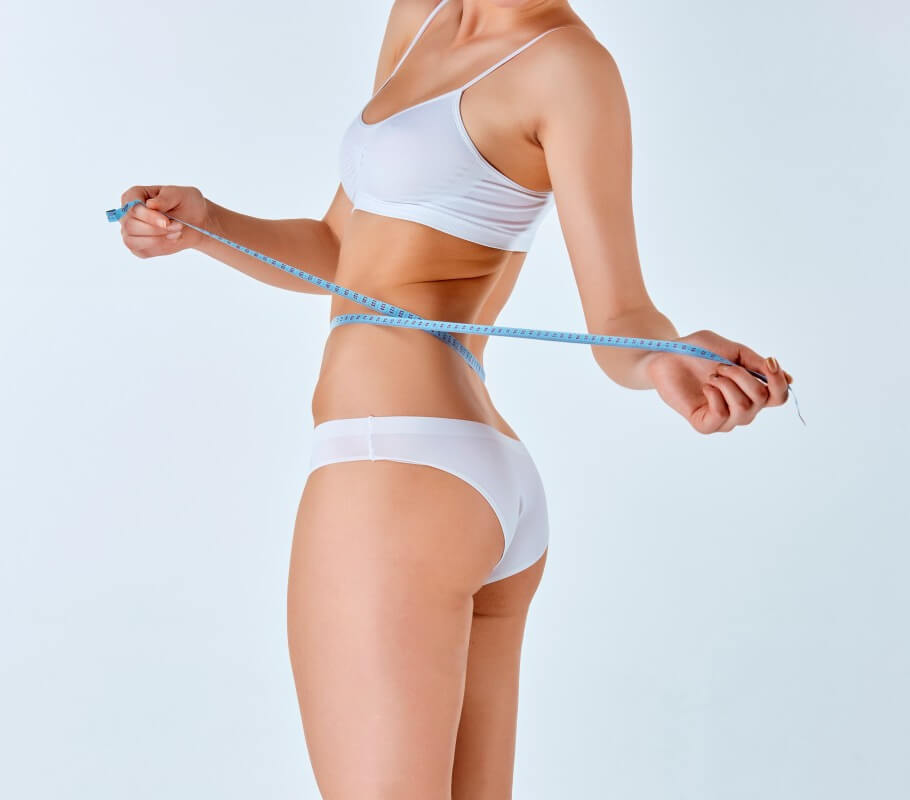 Benefits of Tummy Liposuction
In addition to being less invasive and less traumatic procedure than a traditional tummy tuck, tummy liposuction requires fewer incisions, less scarring and no displacement of the belly button. You should ensure that you fully understand the procedure and ask lots of questions whilst you are deciding whether this is the right solution for you. Finally, the decision should be yours and yours only however, having made the right decision for you, you will be on the path to joining the hundreds of happy women and men who undergo tummy liposuction every year and who are delighted with the results. After having a Tummy Liposuction procedure it is much harder to get fat again in this area.
Risks and complications after mummy tummy liposuction
Common side effects of liposuction include
Aftercare post liposuction
After the procedure,your abdominal area will be covered in bandages and compression garment needs to be worn for several weeks to reduce the swelling and bruising. The swelling and bruising can last up to 10 days. We will be providing you with pain killers which should help you with pain. We will also put you on antibiotics to avoid any infections.
Some fluid may leak from incision sites for some days which is normal.
On going home after the procedure, you will not be bed-ridden, and we encourage you to move about. Everyone heals differently, you know your own body and we encourage you listen to it and give yourself time to heal properly. Normal daily activities can be returned the next day after the procedure but we suggest you please avoid vigorous activities such as intense exercise or sports for around 2-3 weeks.
Final results of your surgery can be seen around 3 months after your procedure of abdominal liposuction.
Liposuction on Stomach Cost
Cost of Mummy tummy liposuction depends upon the amount of work that needs to be done on each patient. When you visit one of the Dezire clinics located at Pune, Bangalore, Delhi or Gurgaon, Dr prashant Yadav will discuss all aspects of the procedure including its cost with you.
We are firm believer of transparency. With us you get what you see
Kailash Soceity, Ashram Road, Opposite Bata Showroom;b/H H K House, Ahmedabad, Gujarat 380009
A56, 1st Floor, Koramangala Industrial Layout, 5th Block, Jyoti Nivas College Road, Bengaluru – 560 095, Karnataka
3, Block C 6, Safdarjung Development Area, Hauz Khas, New Delhi 110016
Office. No. 202, 2nd Floor-Swastik Chambers, Above ICICI Bank, Erandwane, Pune, Maharashtra 411004
1405, Sector 46, Huda Colony, Gurugram, Haryana, India– 122002
M/7, dental plus,  Jolley square, Ram chawk, Ghod dod road, Near st Xaviers school, Surat 395001
We are firm believer of transparency. With us you get what you see
I was feeling gender dysphoria for years and finally decided to undergo FTM top surgery. The doctor and staff were very supportive and I felt genuinely happy after my surgery.
JYOTI DUBEY
I wanted to remove the mole near my nose for a very long time but was not able to decide how to do it. After consulting Dr. Prashant all my doubts got cleared. I am happy with the results.
KAPIL DHAR MISHRA
The size of my lips was my biggest insecurity. I decided to get the size of my lips reduced from dezire clinic and I am satisfied with the outcomes. The whole experience was nice and they explained me the procedure in advanced.
LUCKY
I was not able to lose weight due to various medical conditions but after my liposuction I am feeling so much better. I would highly recommend dezire clinic for their expertise and level of professionalism.
MADHU
My cyst was causing me some pain and it did not look good so I decided to remove it surgically. The procedure was easy and it took very less time. Thank you dezire clinic.
MAMTA
I was so tired of the extra bulge around my underarms. It was so difficult to wear my favorite clothes. My surgery helped me to get my confidence back. I am really thankful to Dr. Prashant.
MITA DAS
My Gynecomastia surgery was done in Dezire clinic safdarjung Delhi and i am very happy with the outcomes and I am very thankful to Dr Prashant Yadav and his team they all are very supportive. Now I can easily wear my favorite clothes.
PRABHGUN SINGH VOHAR
I underwent fat transfer procedure for my hands. I thought it will be a bit painful but the process was painless and staff was very cooperative. I am happy with my results.
RASHMI PURI
I got my several lipoma removed from the arm and it was an easy and painless procedure. I was feeling a bit nervous before the procedure but when the surgery started, I did not feel anything.
SURINDER SINGH
I recommend the dezire clinic for hair transplantation. I visited many clinics before but this one is the best one. Doctor is very gentle, highly experienced, staff is also very cooperative,experienced also. So if someone is suffering from hair loss or androgenic alopecia visit the clinic. Thanks Dr. Prashant Sir & Dezire Clinic
Aamir malik
The doctors and the clinic deserve true recommendation for their services and treatment. The doctors are highly experienced and the staff is very supportive and caring. I felt just like my home at the clinic. The clinic is best for any sort of hair treatment. *Disclaimer - Results may vary from person to person 
Ravi Tiwari
Laser Hair removal definitely changed me as a person. It is phenomenal. I haven't bought razors - which are so expensive now - for years, because I never shave, never. *Disclaimer - Results may vary from person to person.
Madhu Shah
I don't know how to express my thanks for the excellent job Dr. Prashant has performed on my gynecomastia surgery. I am not ashamed to take off his shirt now, and going to swimming. My self-esteem has risen dramatically. *Disclaimer - Results may vary from person to person.
Manish Uphadhaya
I had Vaser Hi Def 4D liposuction with Dr Prashant Yadav 3 months ago. Best decision I ever made. Great success with the procedure and I felt cared for and everyone had my best interest at heart. Could not be happier!!! Everyone at the Institute is great!!!*. *Disclaimer - Results may vary from person to person
Shabbir Shaikh