Dr Prashant Yadav the Director of the clinic and the Chief Operating Surgeon is a renowned and reputed cosmetic surgeon of International class with practical, authentic and extensive experience and proficiency in this thrilling field.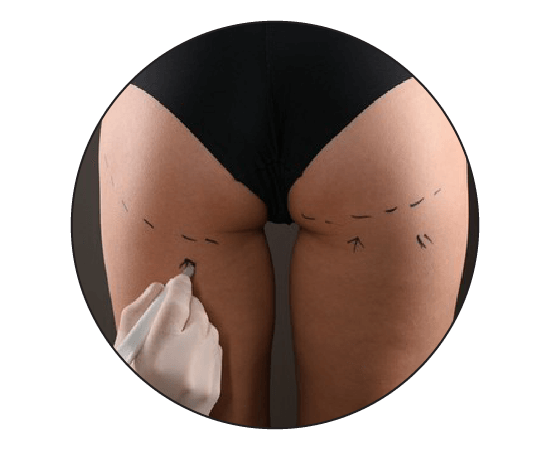 There are many different procedures that can be performed to enhance the gluteal area all of which aim to achieve a better contour and nicer shape. In general, there are three major procedures for reshaping the gluteal area
The specific procedure used to enhance a patient's buttocks will depend on the amount of projection desired, the quality and tone of the skin, the overall shape of the buttocks, and the amount of sagginess among others.
It needs to be combined with liposuction and fat transfer to achieve the best results. In this particular procedure, reshaping is performed by rearranging the buttock's soft tissue in such a way that it will have a better projection and will anchor the soft tissue to help achieve long lasting results.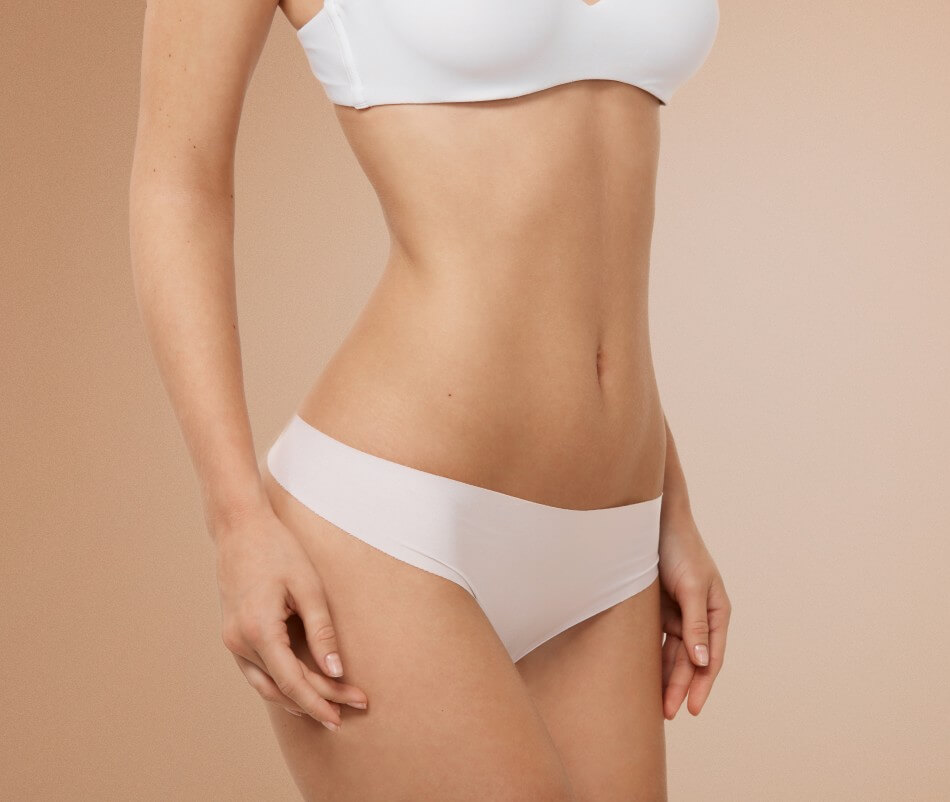 The famous Brazilian butt lift is in surgical terms a fat transfer procedure to the buttocks. The Brazilian butt lift is equivalent to butt shaping with fat transfer. In this procedure, areas with excess fat like the abdomen, flanks, thighs, arms, lower and upper back are sculpted. The fat that is removed is processed and re-injected or grafted into the buttock area. This procedure is a total body sculpting procedure through which, not only the shape of the buttock is made nicer, but the actual proportion of the hip to waist ratio is improved. This transformation creates, not only a nicer looking butt, but also a sexier figure. Although by augmenting the buttock the butt is actually lifted to some extent, the "butt lift" is an actual misnomer because long incisions are not done.
When we think about lifting an area of the body, we immediately think about long scars to reposition the butt to make it look more youthful. In this procedure, small incisions are done, not only to remove the fat with liposuction, but also to re-inject the fat into the buttock area. The butt is actually lifted to some extent by increasing its volume with fat injections. Think about the butt like a deflated balloon. When you inject air, it gets bigger and firmer and its overall shape is "lifted."
Not everybody is a good candidate for this procedure though. There are many factors that are taken into consideration before doing a Brazilian butt lift and age is not one of them. It is well known that age by itself is not a contraindication for cosmetic surgery. The following is part of the criteria to determine if a patient is a good candidate for butt sculpting
We need fat and the bigger the desired butt, the more fat you will need. If you would also like to have relatively larger hips, then, you need to have more fat.
Location of the fat. The fat needs to be accessible.
You cannot have any significant medical problems.
Shape of your body before your surgery. Not only the amount of fat will determine if you will have good results but also your hip to waist ratio, your bony/hip frame, the preoperative shape of your buttocks, and the length and width of your buttocks.
If your buttock skin is very saggy, then, you will not be a good candidate for just butt augmentation. You might need to have excision of the excess skin, which is a more traditional butt lift.
Overall, the main factor that determines if you are going to be a good candidate for the Brazilian butt lift will be your weight and the location of the fat in your body. In addition, the fat needs to be accessible, which means that it should be extra-abdominal fat, not intra-abdominal fat. Intra-abdominal fat is the fat around the liver and guts. This fat cannot be harvested. Only the fat that you can grab with your hand can be used for the procedure itself.
What if you do not have enough fat? Then, you will need to gain weight
In order to do liposuction and harvest fat for any butt shaping procedure, small incisions (5 mm) are strategically placed in different areas. As part of the Brazilian butt lift, we can perform liposuction of the abdomen, flanks, thighs (if the patient wants this area to be liposuctioned) and upper and lower back.
Implants are often used in plastic surgery to reshape and augment body parts like the female breast and the calf. Likewise, gluteal implants can improve the shape of patients' buttocks. Not only do you look better, you'll have more self-confidence and be more approachable, thanks to your shapely new figure.
Buttock implants are used in plastic surgery for reshaping and augmenting different parts of female breast and calf. Buttock implant not only improves the shape of patient buttock but also gives you a better and shapes your figure also. In this procedure a small scar is made below the butt and the implants are placed.
Evaluate The Buttock's Shape
There are other variables, such as size, shape, and skin quality, that need to be considered before making any determinations about which butt augmentation procedure is best for you. If you are thin and wear a size two to four dress, you may not have enough bodily fat to spare for the fat transfer butt enhancement method; therefore, in order to create a new, curvier rear, you would have to receive butt implants.
When evaluating the shape of the buttock, we divide its anatomy into three sections; the upper buttock, the mid-buttock and the lower buttock. Each area needs to be evaluated and addressed separately to provide the best gluteal harmony.
In the process of buttock augmentation, implants will be placed can be of different types such as
Incision can be made on three surfaces such as
This type of operation involves placing an implant that is made of silicone (either cohesive silicone gel or solid silicone) in the buttocks to improve size, shape, and contour. The process of buttock augmentation is done under local or general anesthesia with sedation and it is completed within one hour. Extra half hour is needed if it is needed to be done along with liposuction. The face of the patient is placed in downwards position, then a 5 to 6 cm vertical incision is made in the crease of the buttocks. On both sides of the sacrum dissection is seen till buttock muscle is reached. Then a pocket is made for placing implants there will be minimal bleeding in this procedure. The implants are placed over the newly made pockets and the implants are placed above this. Then the midline incision is closed.
The implants are placed through a single, well-hidden incision that, when healed, nobody will ever see. In most cases, the implant is placed under the layers of buttock muscle and fat so it's there to stay. Plus, there's no danger of breaking and leaking because the implants are made of semi-solid silicone. After all, you sit on not the implants, but on the bones designed to support your weight. The actual implants are placed up higher in the buttocks.
Virtually all buttock implant patients say the new, curvy rear, along with its "wow" factor is worth it. Once healed, buttock implant patients love filling out new styles and really love filling out a bathing suit. Plus, you'll have more self-confidence and be more approachable, thanks to your shapely new figure.
The final decision will be whether or not liposuction should be combined with the implant procedure to add further contour to the buttocks.
Most of the patients who were having the operation had flat buttocks, but they also had a role of excess fat in the upper-outer part of the buttock. They looked flat from the side but wide and flat from the back. After the augmentation, the patients had nice-looking results and a large wide look from all angles. We can combine the implant procedure with liposuction of the upper outer part of the buttock to improve the wide appearance. I then noticed a tremendous change in the contour and shape of the buttocks.In some patients, liposuction of the lower buttock and outer thigh is also needed to improve the droopy look we can do buttock augmentations with liposuction.
Buttock augmentation is done under local anesthesia with sedation or spinal anesthesia or general anesthesia that takes about an hour to perform
After your butt implant procedure, you will need to wear a support garment for approximately two to three weeks. At first, you will notice a definite difference in the gluteus contour, but because you are swollen, the buttock will appear very full, and will have a boxy appearance. You may also notice the implants sit quite high on the buttock. That is all normal, too; kindly remember that you are swollen. It will take at least three months for all the swelling to go down and for the implants to settle into their normal position. You may experience occasional temperature changes and numbness over the buttocks. But that will also improve over the next three months. You may feel a little timid and scared when sitting down, but remember the implant is much higher on the buttock than where you normally sit, so don't worry.
In the traditional butt lift, long scars are strategically placed around the gluteal contour to actually lift the buttocks and at the same time preserve soft tissue to augment them.
The range of problems that can be solved with a buttock lift requires careful analysis in order to tailor the solution using the most appropriate surgical techniques. The degree of sagginess, skin tone and laxity, amount of deflation of the buttocks, and location of the deformity are just a few of the many factors that must be taken into consideration.
The upper buttock lift is one of the oldest procedures and is mostly used for those patients who have lost a lot of weight after a bariatric surgery. In addition, the excess tissue is used to augment the buttocks. This procedure is like performing a tummy tuck in which a long scar is performed to remove the excess tissue but the scar is not a straight line; instead, it follows the superior roundness of the buttocks.
The lateral buttock lift is a technique that I use to enhance the buttocks when mainly the deformity of the buttocks is located on the sides and hips and the degree of sagginess of the butt is moderate. The incision is located around the hip buttock junction and the length of the incision is much shorter.
The butterfly buttock lift is a procedure that is very useful to enhance the buttocks in those cases where there is mild to moderate sagginess on the central buttocks. The incision follows the gluteal crease and extends to the sides following the junction of the lower back with the gluteus. This approach to buttock rejuvenation improves the actual sagginess but does not significantly lift the inferior gluteal crease.
You are required to wear support garment for two to three weeks after the procedure. It will help in redraping of the skin and giving a proper support to the buttocks. Final result of the procedure will be seen after three months of the surgery, most of swelling will subside by this time. Three months is needed for subsiding swelling and for making implant to go in their normal position. Initially you may have some temperature change and numbness over your buttocks which will improve in next three months.
We are firm believer of transparency. With us you get what you see
Kailash Soceity, Ashram Road, Opposite Bata Showroom;b/H H K House, Ahmedabad, Gujarat 380009
A56, 1st Floor, Koramangala Industrial Layout, 5th Block, Jyoti Nivas College Road, Bengaluru – 560 095, Karnataka
3, Block C 6, Safdarjung Development Area, Hauz Khas, New Delhi 110016
Office. No. 202, 2nd Floor-Swastik Chambers, Above ICICI Bank, Erandwane, Pune, Maharashtra 411004
1405, Sector 46, Huda Colony, Gurugram, Haryana, India– 122002
M/7, dental plus,  Jolley square, Ram chawk, Ghod dod road, Near st Xaviers school, Surat 395001
We are firm believer of transparency. With us you get what you see
I was feeling gender dysphoria for years and finally decided to undergo FTM top surgery. The doctor and staff were very supportive and I felt genuinely happy after my surgery.
JYOTI DUBEY
I wanted to remove the mole near my nose for a very long time but was not able to decide how to do it. After consulting Dr. Prashant all my doubts got cleared. I am happy with the results.
KAPIL DHAR MISHRA
The size of my lips was my biggest insecurity. I decided to get the size of my lips reduced from dezire clinic and I am satisfied with the outcomes. The whole experience was nice and they explained me the procedure in advanced.
LUCKY
I was not able to lose weight due to various medical conditions but after my liposuction I am feeling so much better. I would highly recommend dezire clinic for their expertise and level of professionalism.
MADHU
My cyst was causing me some pain and it did not look good so I decided to remove it surgically. The procedure was easy and it took very less time. Thank you dezire clinic.
MAMTA
I was so tired of the extra bulge around my underarms. It was so difficult to wear my favorite clothes. My surgery helped me to get my confidence back. I am really thankful to Dr. Prashant.
MITA DAS
My Gynecomastia surgery was done in Dezire clinic safdarjung Delhi and i am very happy with the outcomes and I am very thankful to Dr Prashant Yadav and his team they all are very supportive. Now I can easily wear my favorite clothes.
PRABHGUN SINGH VOHAR
I underwent fat transfer procedure for my hands. I thought it will be a bit painful but the process was painless and staff was very cooperative. I am happy with my results.
RASHMI PURI
I got my several lipoma removed from the arm and it was an easy and painless procedure. I was feeling a bit nervous before the procedure but when the surgery started, I did not feel anything.
SURINDER SINGH
I recommend the dezire clinic for hair transplantation. I visited many clinics before but this one is the best one. Doctor is very gentle, highly experienced, staff is also very cooperative,experienced also. So if someone is suffering from hair loss or androgenic alopecia visit the clinic. Thanks Dr. Prashant Sir & Dezire Clinic
Aamir malik
The doctors and the clinic deserve true recommendation for their services and treatment. The doctors are highly experienced and the staff is very supportive and caring. I felt just like my home at the clinic. The clinic is best for any sort of hair treatment. *Disclaimer - Results may vary from person to person 
Ravi Tiwari
Laser Hair removal definitely changed me as a person. It is phenomenal. I haven't bought razors - which are so expensive now - for years, because I never shave, never. *Disclaimer - Results may vary from person to person.
Madhu Shah
I don't know how to express my thanks for the excellent job Dr. Prashant has performed on my gynecomastia surgery. I am not ashamed to take off his shirt now, and going to swimming. My self-esteem has risen dramatically. *Disclaimer - Results may vary from person to person.
Manish Uphadhaya
I had Vaser Hi Def 4D liposuction with Dr Prashant Yadav 3 months ago. Best decision I ever made. Great success with the procedure and I felt cared for and everyone had my best interest at heart. Could not be happier!!! Everyone at the Institute is great!!!*. *Disclaimer - Results may vary from person to person
Shabbir Shaikh