Dr Prashant Yadav the Director of the clinic and the Chief Operating Surgeon is a renowned and reputed cosmetic surgeon of International class with practical, authentic and extensive experience and proficiency in this thrilling field.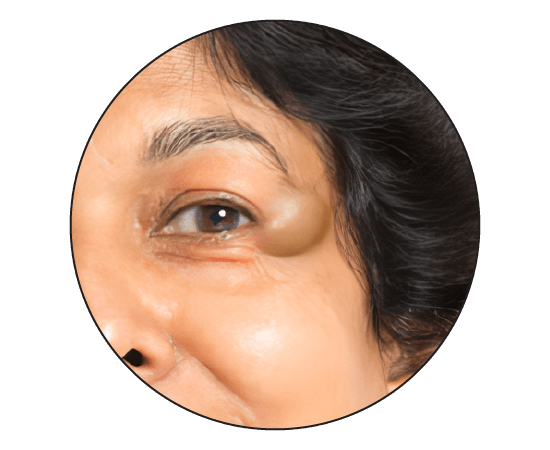 What you should know about Cyst? What methods are available to treat Cysts?
A cyst appears as a bulge or bumps beneath the skin. The vast majority of cysts are subcutaneous sacs that fill with skin cells and other skin secretions. This substance is white and cheesy, and it may have an odor. A cyst can form for a variety of causes. It can happen when a hair follicle becomes clogged. More often than not, a cyst forms when cells from the skin's surface become trapped in the deeper layers of the skin. They create a tiny balloon or sac here. The sac fills up with dead skin cells as the cells continue to exfoliate. The cyst may become larger over time.
Cysts on the skin are not malignant and do not progress to cancer. Our dermatologist will normally want a histological investigation of any tissue taken to ensure that it is a cyst and nothing else. This is because other lumps and bumps under the skin, which may be malignant, can sometimes mimic a cyst.
Who performs cyst removal?
Cyst removal is often performed by a dermatologist, however, it may also be performed by someone with experience in skin surgical treatments.
There are several reasons why you would want a cyst removed. Some of the most prevalent causes for cyst removal are:
Does a cyst go away on its own?
Once a cyst has formed, it will not disappear on its own. This is because a cyst comprises a sac that must be physically removed.
Cysts on the face are prevalent. Facial cysts can be removed successfully with precise surgical methods. Milia cysts are very tiny face cysts that can be removed without leaving a noticeable scar. Acne cysts may necessitate medical therapy before-before surgical cyst excision.
Removal of scalp cysts and cysts on the head
Cysts are prevalent on the scalp and can be removed with little to no harm to the hair follicles. Scalp cysts can be passed on via families. Some patients have several cysts on their scalp that can be treated without causing any harm.
Removal of a cyst on the body
Cysts can be located anywhere on the body and can be removed surgically with caution. The neck, back, chest, arms, and legs are all included. Cysts can also be detected on the scrotum and removed there.
Infected cysts, uncomfortable cysts, and inflammatory cysts are all removed.
If a cyst becomes red, large, painful, and begins to ooze, the cyst may have ruptured, producing inflammation and infection. First, the inflammation and infection are treated, and then the cyst is removed.
What exactly happens during cyst removal surgery?
A cyst is a tiny bubble or sac beneath the skin. If the balloon is simply poked and emptied, it will refill. Successful cyst removal necessitates the removal of the whole sac. Under local anesthesia, this can be done safely. The balloon is "peeled" out from under the skin after a tiny incision is made over the cyst. After that, the skin can be sewn together to form a minor scar. The scar is disguised as much as possible. Stitches may be absorbable or removed within 7 to 10 days of surgery. A stitch may not be used if the incision is very tiny (minimally invasive).
Cyst removal with open excision
This approach involves making an incision the length of the cyst and peeling the cyst out. The incision is then repaired up to the length of the cyst. This results in a scar the length of the cyst or somewhat longer.
Wider excision approach for cyst eradication
If the cyst has become particularly inflammatory or scarred, or if it is a recurring cyst, it is sometimes advisable to remove the entire cyst to obtain clearance.
What happens if I ignore a cyst?
Cysts are not harmful. If left alone, certain cysts might enlarge and explode. When they rupture, they can cause discomfort, redness, and swelling, as well as drainage.
Is it possible to eliminate cysts without surgery?
No, cysts cannot be eliminated surgically.
How does the scar look after cyst removal?
The scar left behind after cyst excision is determined by the procedure utilized. If the punch device approach is utilized, the scar may be a few millimeters long, as long as the cyst if the open excision method is employed, or three times as long as the cyst if the broader excision method is used.
Consultation for cyst removal
A cyst removal consultation allows you to discuss the process in detail with our Dermatologist who will be doing your operation. The cyst removal procedure can then be scheduled at a time that is convenient for you. If you have a big cyst, several cysts, or a complicated cyst, if the cyst has become irritated or infected, or if the cyst is in a conspicuous face location, a cyst removal consultation is necessary. A cyst removal consultation will also help the doctor to determine whether or not the lesion is a cyst. Lipomas, lymph nodes, and skin tumors are examples of skin lesions that might resemble cysts. The surgeon might order an ultrasound scan or other tests.
Cyst removal on the same day
In rare cases, a cyst consultation and operation can be performed on the same day. This may be designed if you supply us with a photograph, after which we can provide a quote. Same-day procedures are only performed when they are judged safe and suitable. If a same-day treatment cannot be performed for whatever reason, the visit is considered a consultation, and plans for surgery can be made.
How does the scar look after cyst removal?
The scar left behind after cyst excision is determined by the procedure utilized. If the punch device approach is utilized, the scar may be a few millimeters long, as long as the cyst if the open excision method is employed, or three times as long as the cyst if the broader excision method is used.
What are the aftercare and recovery procedures for cyst removal?
The wound will heal in 10-14 days for stitched wounds. We urge that you remain generally relaxed at this time by avoiding hard exertion. People can frequently return to their office jobs the next day. Showers are still permitted since a splash-proof dressing is placed. Stitches can be removed within 7 to 10 days. Non-stitched wounds heal in 2 to 3 weeks (possibly longer if there is a huge void).
How soon can I return to work and sports after having a cyst removed?
The next day, you can return to your office work. However, we ask that you wait 14 days before swimming, watersports, sweating or rubbing clothing on the healing wound, hard lifting and stretching, and utilizing saunas and steam rooms.
Why is Dezire clinic the Best clinic for your cyst removal procedure in India?
Looking for methods to treat your various cosmetic concerns, Dezire clinic has been in the field of cosmetic and surgical procedures for years now. We use the latest technology to give you high-class services. Dezire is known for maintaining an impeccable level of hygiene for a safe experience for our patients. We ensure confidentiality in our work to make sure that you will have a comfortable experience with us. You can call us at 9717470550 or you can email us at (dezireclinicindia@gmail.com) to book your free consultation.
We are firm believer of transparency. With us you get what you see
Kailash Soceity, Ashram Road, Opposite Bata Showroom;b/H H K House, Ahmedabad, Gujarat 380009
A56, 1st Floor, Koramangala Industrial Layout, 5th Block, Jyoti Nivas College Road, Bengaluru – 560 095, Karnataka
3, Block C 6, Safdarjung Development Area, Hauz Khas, New Delhi 110016
Office. No. 202, 2nd Floor-Swastik Chambers, Above ICICI Bank, Erandwane, Pune, Maharashtra 411004
1405, Sector 46, Huda Colony, Gurugram, Haryana, India– 122002
M/7, dental plus,  Jolley square, Ram chawk, Ghod dod road, Near st Xaviers school, Surat 395001
We are firm believer of transparency. With us you get what you see
I was feeling gender dysphoria for years and finally decided to undergo FTM top surgery. The doctor and staff were very supportive and I felt genuinely happy after my surgery.
JYOTI DUBEY
I wanted to remove the mole near my nose for a very long time but was not able to decide how to do it. After consulting Dr. Prashant all my doubts got cleared. I am happy with the results.
KAPIL DHAR MISHRA
The size of my lips was my biggest insecurity. I decided to get the size of my lips reduced from dezire clinic and I am satisfied with the outcomes. The whole experience was nice and they explained me the procedure in advanced.
LUCKY
I was not able to lose weight due to various medical conditions but after my liposuction I am feeling so much better. I would highly recommend dezire clinic for their expertise and level of professionalism.
MADHU
My cyst was causing me some pain and it did not look good so I decided to remove it surgically. The procedure was easy and it took very less time. Thank you dezire clinic.
MAMTA
I was so tired of the extra bulge around my underarms. It was so difficult to wear my favorite clothes. My surgery helped me to get my confidence back. I am really thankful to Dr. Prashant.
MITA DAS
My Gynecomastia surgery was done in Dezire clinic safdarjung Delhi and i am very happy with the outcomes and I am very thankful to Dr Prashant Yadav and his team they all are very supportive. Now I can easily wear my favorite clothes.
PRABHGUN SINGH VOHAR
I underwent fat transfer procedure for my hands. I thought it will be a bit painful but the process was painless and staff was very cooperative. I am happy with my results.
RASHMI PURI
I got my several lipoma removed from the arm and it was an easy and painless procedure. I was feeling a bit nervous before the procedure but when the surgery started, I did not feel anything.
SURINDER SINGH
I recommend the dezire clinic for hair transplantation. I visited many clinics before but this one is the best one. Doctor is very gentle, highly experienced, staff is also very cooperative,experienced also. So if someone is suffering from hair loss or androgenic alopecia visit the clinic. Thanks Dr. Prashant Sir & Dezire Clinic
Aamir malik
The doctors and the clinic deserve true recommendation for their services and treatment. The doctors are highly experienced and the staff is very supportive and caring. I felt just like my home at the clinic. The clinic is best for any sort of hair treatment. *Disclaimer - Results may vary from person to person 
Ravi Tiwari
Laser Hair removal definitely changed me as a person. It is phenomenal. I haven't bought razors - which are so expensive now - for years, because I never shave, never. *Disclaimer - Results may vary from person to person.
Madhu Shah
I don't know how to express my thanks for the excellent job Dr. Prashant has performed on my gynecomastia surgery. I am not ashamed to take off his shirt now, and going to swimming. My self-esteem has risen dramatically. *Disclaimer - Results may vary from person to person.
Manish Uphadhaya
I had Vaser Hi Def 4D liposuction with Dr Prashant Yadav 3 months ago. Best decision I ever made. Great success with the procedure and I felt cared for and everyone had my best interest at heart. Could not be happier!!! Everyone at the Institute is great!!!*. *Disclaimer - Results may vary from person to person
Shabbir Shaikh