Dr Prashant Yadav the Director of the clinic and the Chief Operating Surgeon is a renowned and reputed cosmetic surgeon of International class with practical, authentic and extensive experience and proficiency in this thrilling field.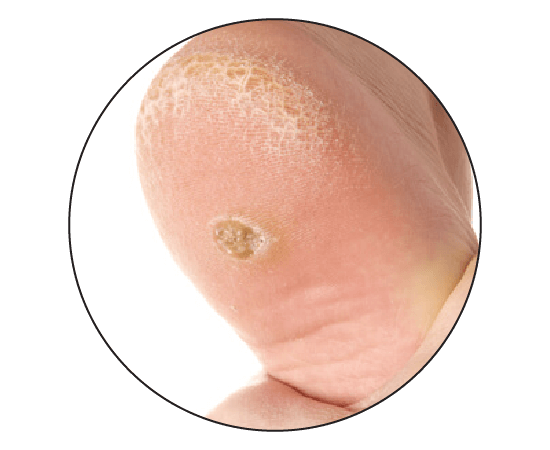 Are you looking for a treatment option for your corns and calluses?
Corns and calluses are hardened layers of skin that grow as the skin tries to protect itself from friction or pressure. They usually occur on the feet and toes, as well as the hands and fingers. If you're in good health, you don't need to treat corns and calluses unless they hurt or you don't like the way they appear. Most people find that merely eliminating the cause of friction or pressure eliminates corns and calluses.
What are the symptoms of corns and calluses?
Corns and calluses can be identified by the following signs and symptoms:
A rough, thick patch of skin
A raised, hardened bump
Under-skin tenderness or soreness
Skin that is flaky, dry, or waxy
Calluses and corns are not the same thing. Corns have a hard center surrounded by swollen skin and are smaller and deeper than calluses. When squeezed, they might cause discomfort. Hard corns are frequently formed on the tops of the toes or the outside border of the tiny toe. Between the toes, soft corns develop. Calluses are rarely painful and form on pressure points such as the heels, balls of the feet, palms, and knees. They vary in size and form and are often bigger than corn.
When should you see a dermatologist for corn and calluses removal?
Consult your doctor if a corn or callus becomes extremely painful or inflamed. Seek medical attention before self-treating corn or callus if you have diabetes or weak blood flow. This is significant because even mild foot injuries can result in an infected open sore (ulcer).
What are the Causes of corns and calluses?
Friction and pressure from repetitive acts generate corns and calluses. Among the origins of this friction and pressure are:
Wearing shoes and socks that are too small- Tight shoes and high heels can cause foot squeezing. If your shoes are too small, your foot may slide and grind against the shoe. Inside the shoe, your foot may potentially rub against a seam or stitch. Socks that don't fit properly might also be an issue.
Socks are being omitted-Wearing shoes and sandals without socks might create foot friction.
Playing an instrument or working with hand tools- Calluses on the hands can develop as a consequence of repetitive pressure from activities such as playing instruments, using hand tools, or even writing with a pen.
Having a tendency to grow corn- Genetics may be to blame for the kind of corns and calluses that occurs on non-weight-bearing regions such as the soles and palms.
What treatment does our dermatologist recommend for treating corns and calluses?
Our dermatologist will identify corns and calluses by examining your feet. Other reasons for thickening skin, such as warts and cysts, can be ruled out with this check. The dermatologist will confirm the diagnosis by removing a small piece of hardened skin. It's a wart, not a corn if it bleeds or displays black spots (dried blood).
Corns and calluses are treated in the same way. It entails avoiding the recurrent acts that led to their formation. Wearing the right shoes and utilizing protective padding can assist. If, despite your best efforts, a corn or callus persists or becomes uncomfortable, the following medical treatments may be beneficial:

What precautions are important after the corn and calluses removal procedure?
After undergoing a corn and callus removal procedure, it is important to take certain precautions to ensure proper healing and prevent the recurrence of these conditions. These are some necessary precautions you should follow.
Why is Dezire clinic the Best clinic for your corn and calluses removal procedure in India?
Looking for methods to treat your various cosmetic concerns, Dezire clinic has been in the field of cosmetic and surgical procedures for years now. For the best services, we employ cutting-edge technologies. For the safety of our patients, Dezire is renowned for upholding a flawless standard of hygiene. To guarantee that working with us would be pleasant for you, we maintain confidentiality in all aspects of our work. To schedule your free consultation, contact us by phone at 9717470550 or by email at dezireclinicindia@gmail.com.
We are firm believer of transparency. With us you get what you see
Kailash Soceity, Ashram Road, Opposite Bata Showroom;b/H H K House, Ahmedabad, Gujarat 380009
A56, 1st Floor, Koramangala Industrial Layout, 5th Block, Jyoti Nivas College Road, Bengaluru – 560 095, Karnataka
3, Block C 6, Safdarjung Development Area, Hauz Khas, New Delhi 110016
Office. No. 202, 2nd Floor-Swastik Chambers, Above ICICI Bank, Erandwane, Pune, Maharashtra 411004
1405, Sector 46, Huda Colony, Gurugram, Haryana, India– 122002
M/7, dental plus,  Jolley square, Ram chawk, Ghod dod road, Near st Xaviers school, Surat 395001
We are firm believer of transparency. With us you get what you see
I was feeling gender dysphoria for years and finally decided to undergo FTM top surgery. The doctor and staff were very supportive and I felt genuinely happy after my surgery.
JYOTI DUBEY
I wanted to remove the mole near my nose for a very long time but was not able to decide how to do it. After consulting Dr. Prashant all my doubts got cleared. I am happy with the results.
KAPIL DHAR MISHRA
The size of my lips was my biggest insecurity. I decided to get the size of my lips reduced from dezire clinic and I am satisfied with the outcomes. The whole experience was nice and they explained me the procedure in advanced.
LUCKY
I was not able to lose weight due to various medical conditions but after my liposuction I am feeling so much better. I would highly recommend dezire clinic for their expertise and level of professionalism.
MADHU
My cyst was causing me some pain and it did not look good so I decided to remove it surgically. The procedure was easy and it took very less time. Thank you dezire clinic.
MAMTA
I was so tired of the extra bulge around my underarms. It was so difficult to wear my favorite clothes. My surgery helped me to get my confidence back. I am really thankful to Dr. Prashant.
MITA DAS
My Gynecomastia surgery was done in Dezire clinic safdarjung Delhi and i am very happy with the outcomes and I am very thankful to Dr Prashant Yadav and his team they all are very supportive. Now I can easily wear my favorite clothes.
PRABHGUN SINGH VOHAR
I underwent fat transfer procedure for my hands. I thought it will be a bit painful but the process was painless and staff was very cooperative. I am happy with my results.
RASHMI PURI
I got my several lipoma removed from the arm and it was an easy and painless procedure. I was feeling a bit nervous before the procedure but when the surgery started, I did not feel anything.
SURINDER SINGH
I recommend the dezire clinic for hair transplantation. I visited many clinics before but this one is the best one. Doctor is very gentle, highly experienced, staff is also very cooperative,experienced also. So if someone is suffering from hair loss or androgenic alopecia visit the clinic. Thanks Dr. Prashant Sir & Dezire Clinic
Aamir malik
The doctors and the clinic deserve true recommendation for their services and treatment. The doctors are highly experienced and the staff is very supportive and caring. I felt just like my home at the clinic. The clinic is best for any sort of hair treatment. *Disclaimer - Results may vary from person to person 
Ravi Tiwari
Laser Hair removal definitely changed me as a person. It is phenomenal. I haven't bought razors - which are so expensive now - for years, because I never shave, never. *Disclaimer - Results may vary from person to person.
Madhu Shah
I don't know how to express my thanks for the excellent job Dr. Prashant has performed on my gynecomastia surgery. I am not ashamed to take off his shirt now, and going to swimming. My self-esteem has risen dramatically. *Disclaimer - Results may vary from person to person.
Manish Uphadhaya
I had Vaser Hi Def 4D liposuction with Dr Prashant Yadav 3 months ago. Best decision I ever made. Great success with the procedure and I felt cared for and everyone had my best interest at heart. Could not be happier!!! Everyone at the Institute is great!!!*. *Disclaimer - Results may vary from person to person
Shabbir Shaikh